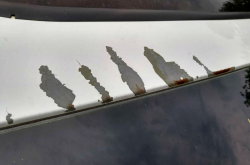 — A Hyundai peeling paint lawsuit is over, at least for now, as a U.S. district judge dismissed the lawsuit that alleges Hyundai used a paint that bubbles and flakes off the vehicles. However, in her ruling, the judge left the door open for the plaintiffs to amend and refile their complaint.
The Hyundai class-action lawsuit was filed by car owners who claim the paint peeled, bubbled and flaked at alarming rates, with some owners saying the paint came off in sheets like glass.
Named in the lawsuit are the 2006-2016 Hyundai Santa Fe, Sonata and Hyundai Elantra allegedly manufactured with self-healing paint that doesn't work. The plaintiffs allege Hyundai uses an elastic chemical that is supposed to heal scratches when ultraviolet light hits the paint and causes it to enter a type of molten state to fill in scratches.
The lawsuit says the idea sounds fine and good, but in reality once the sun hits the paint, the polymers break down and stay in a molten state. This allegedly causes the paint to easily bubble and peel away, something other automakers learned long ago by using the same type of self-healing paint.
Hyundai filed a motion to dismiss the lawsuit and a California district judge agreed to toss the case.
Hyundai reminded the judge about a case involving Yahama boat motors, a case similar to the Hyundai lawsuit and a case overseen by the same judge. The Yamaha case, Williams. v. Yamaha Motor Corporation, had been appealed to the Ninth Circuit which ruled the previous ruling by the judge had been correct.
The judge had dismissed the Yamaha boat motor case because the alleged defect was cosmetic in nature and allegedly occurred outside the warranty period.
Whether Hyundai knew the paint was defective was a question because the automaker said third-party websites talked about the problems, but customers weren't complaining directly to Hyundai. In other words, if customers don't complain directly to Hyundai, no one can prove the automaker had prior knowledge of alleged problems.
The plaintiffs say Hyundai lied by saying the paint would protect against rust and corrosion and even bragged about the quality of the paint in nationwide advertisements.
As for the paint being just an issue of aesthetics, the plaintiffs claim this is false because the paint is there not only for looks but to protect the body of the vehicles from corrosion and rust damage. However, the judge didn't buy it.
The Hyundai peeling paint lawsuit was filed in the U.S. District Court for the Central District of California - Michelle Resnick, et al. vs. Hyundai Motor America Inc.
The plaintiffs are represented by Morgan & Morgan Complex Litigation Group, McCuneWright LLP, Greg Coleman Law, and the Law Office of Jean Sutton Martin PLLC.
CarComplaints.com has complaints about the Hyundai Sonata, Hyundai Elantra and Hyundai Santa Fe Sport.