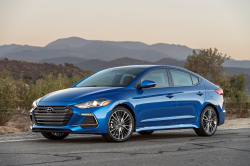 — Hyundai is recalling about 33,800 Hyundai Elantra cars to fix problems with the brake boosters because they can fail due to vacuum leaks and cause a loss of power braking.
Hyundai was notified in December 2016 that a supplier was receiving an increase of orders for replacement brake boosters for 2017 Elantras. Four customers complained about the effort it took to use the brake pedals, so Hyundai collected the parts and started an investigation with the brake booster supplier.
The supplier determined the diaphragm in the brake booster may come loose and cause a vacuum leak, resulting in reduced or a loss of power braking assist. In addition to the strength needed to press the brake pedal, a driver will notice increased stopping distances and possibly an illuminated warning light.
The cars were built in Alabama from September 12, 2016, through January 18, 2017.
The supplier corrected the problems and now Hyundai dealers must replace the brake system booster assemblies in the cars, a job that will take a technician about an hour to do.
The automaker started mailing recall notices on February 6, but with questions, owners of the 2017 Hyundai Elantra should call 800-633-5151. Hyundai's number for this recall is 157.
Have a complaint to add about your Hyundai Elantra? Add your complaint here, about any vehicle.
Or to read what owners say about their Hyundai Elantra cars, read about the 2017 Elantra and other model years.