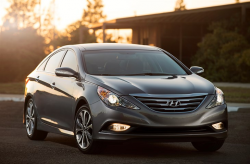 — Hyundai is recalling 572,000 model year 2013-2014 Hyundai Sonata and Santa Fe Sport vehicles because the engines can seize.
Hyundai says machining errors occurred when the engines were built and those errors can cause the engine bearings to wear out early. Those prematurely worn bearings will cause the engine to lock up, something a dealer will need to fix by replacing the engine short block.
This is a problem Hyundai has been forced to deal with for years, including in the courts, a problem caused by metal debris from machining operations as part of the engine crankshaft, debris which may not have been completely removed from the crankshaft's oil passages during the cleaning process.
The automaker says another culprit is the machining processes of the crankpins that cause an uneven surface roughness. As a result, the metal debris and uneven surface roughness can restrict oil flow to the bearings, thereby increasing bearing temperatures and causing premature bearing wear.
A worn connecting rod bearing will produce a knocking noise from the engine and a driver may notice the engine warning light and oil pressure light illuminated.
Ignoring the knocking and lights will eventually cause the bearings to fail and the engines to seize and stall.
Hyundai says the Sonata and Santa Fe Sport engine recall will begin around May 19, 2017.
Owners with questions should call Hyundai at 800-633-5151 and ask about recall number 162.
At the same time, Kia recalled 618,000 model year 2011-2014 Kia Optima, 2012-2014 Sorento and 2011-2013 Sportage vehicles for the same engine problems. Read about that recall here.
CarComplaints.com has engine complaints about the Hyundai vehicles named in the engine recall: