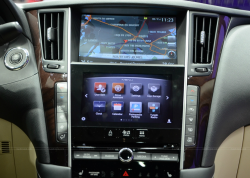 — Nissan has agreed to settle an Infiniti Q50 InTouch lawsuit that alleges owners and lessees paid money for systems that didn't work as advertised.
The plaintiffs say Nissan promoted the benefits of the InTouch technology as a state-of-the-art infotainment system that worked with popular applications such as Facebook, yet many of the features don't work. The lawsuit also alleges the systems have problems connecting to email accounts or calendars as advertised.
The closing of the lawsuit involves two separate cases, one with lead plaintiff Leon Zingerman complaining Infiniti advertised the InTouch system that in reality didn't live up to the advertising. The plaintiff says the InTouch system in his Q50 didn't work for a year because the app wasn't available to download, an app owners must use to perform software upgrades.
According to the lawsuit, Infiniti kept telling owners the app would work when it wouldn't, all while using the InTouch system has a selling point for the Q50 cars. Owners who asked the automaker for compensation were allegedly turned down and affected owners and lessees say they paid more than they should have for the cars.
Nissan received good news a few months ago when the judge ruled class-action certification wouldn't happen because all the owners couldn't prove they bought or leased their cars based on advertisements for the InTouch systems. Shortly after that ruling, Nissan and the plaintiffs announced they had agreed to settle the lawsuit.
The automaker admits to no wrongdoing and says it will settle the case just to get it over with and save on a drawn-out legal battle. In addition, the plaintiffs are accepting the deal because they risk total failure if the lawsuit continues, even more so now that the judge shot down hopes for class-action certification.
Included in the lawsuit are owners and lessees of 2014 Infiniti Q50 cars who are eligible to receive $30 and another $55 if they downloaded the Infiniti iTouch app before April 17, 2017. If a customer wants to skip the cash payments, they can receive a $500 credit toward the purchase or lease of a new Infiniti vehicle. The offer is good until the end of March 2019.
Attorneys for the plaintiffs can receive $800,000 in fees and costs.
The Infiniti Q50 InTouch lawsuits are Joshua Rafofsky, et al., v. Nissan North America Inc., and Leon Zingerman, Niles Family Dental v. Nissan North America Inc.
The plaintiffs are represented by Blood Hurst & O'Reardon LLP, Monteleone & McCrory LLP, and Barnow & Associates PC.