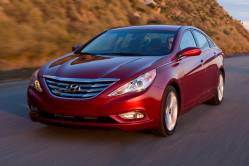 — The National Highway Traffic Safety Administration (NHTSA) is looking into possible problems with the front passenger seat belts in 2013 Hyundai Sonata cars after two reports were filed concerning seat belts that failed.
Specifically, NHTSA will investigate why the seat belts didn't remain connected to the seat belt anchor pretensioners during a crash.
The driver of a 2013 Sonata says while traveling at 25 mph through a green light, the Sonata was struck by another car that blew through a red light. The crash caused significant front-end damage to the Sonata and both frontal airbags deployed.
Even though the driver weighed about 270 pounds and the passenger only 110 pounds, the passenger-side seat belt failed at the point where the lap restraint attaches to the car. The report to NHTSA indicates the passenger was injured due to the failing seat belt.
Another 2013 Hyundai Sonata driver told NHTSA about a crash that caused the car to be towed to a lot after the front passenger seat belt completely detached from the floor.
NHTSA hasn't released any additional details other than the Sonata investigation will include an estimated 313,000 cars.
March 15, 2017 Update: Hyundai recalls 978,000 model year 2011-2014 Sonata and 2011-2015 Sonata Hybrid cars.