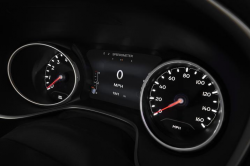 — FCA US (Chrysler) is recalling more than 25,800 model year 2017-2018 Jeep Compass SUVs because of problems with the instrument panel backlighting.
Chrysler says the lighting cannot be adjusted, a violation of federal safety regulations that say the backlights must have two levels of brightness. The standards were created because drivers may have more difficulty seeing at night if the instrument panel lights are too bright for the driving situation.
Additionally, the dimmer switch won't work and a driver won't have the ability to override it.
FCA was contacted by the National Highway Traffic Safety Administration (NHTSA) in October 2017 about a customer complaint concerning the instrument panel backlighting of a 2018 Jeep Compass.
The government asked Chrysler to investigate the problem and the automaker found two engineering changes to the photo sensor calibrations that could affect transitions from day-mode to night-mode.
FCA and the supplier determined all the complaints were about SUVs within a single software release, and both companies decided a recall was necessary to correct the lighting.
The Jeep Compass recall is expected to begin January 10, 2018. Jeep dealers will simply need to update the software for the instrument panels.
If you own a 2017-2018 Jeep Compass and have concerns, contact Chrysler at 800-853-1403 and ask about recall number T70.
CarComplaints.com has owner-reported complaints you can read about Jeep Compass SUVs.