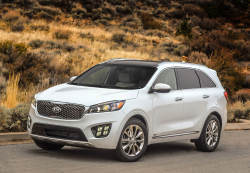 — Kia is recalling 62 of its 2017 Kia Sorento SUVs because the crankshafts can fail and leave the Sorentos stalled and the drivers stranded.
Kia also says it's possible failed crankshafts could cause fires, so dealers will need to inspect the crankshafts and if needed, replace the engine sub assemblies.
The Kia Sorento crankshaft recall will begin November 6, 2017, but owners with questions may contact the automaker at 800-333-4542 and request information about recall number SC153.
CarComplaints.com has complaints you can read about the 2017 Kia Sorento and other model years of Kia Sorentos.