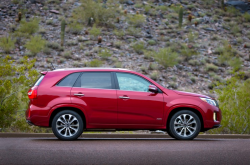 — Kia is recalling more than 618,000 model year 2011-2014 Kia Optima, 2012-2014 Sorento and 2011-2013 Sportage vehicles because the engine bearings can wear out too early and cause the engines to seize.
Kia says machining problems occurred during manufacturing, something dealers will need to fix by replacing the engine assemblies.
Theta GDI Engine Problems
Kia says the problem goes back to at least 2015 when the automaker learned Hyundai had ordered a recall of 470,000 Sonata cars with Theta engines that could fail due to debris in the oil that blocked oil flow to the engines.
Kia says it checked the engine manufacturing process for the Optima and found different procedures were used for the engines. The automaker found warranty claims and field reports were "extremely low," so no recall was ordered.
In 2016, engine re-manufacturer Translead conducted a review of all Kia warranty returned engines and found oil delivery problems with Theta GDI engines used in the Optima, Sportage and Sorento. Kia still didn't order a recall because no accidents or injuries were reported.
In May 2016, Kia learned of a Hyundai Sonata warranty extension program and decided to analyze the data for the Theta engines. Kia still didn't find any accidents or injuries, but the warranty claims had increased. Customers were complaining about spending a fortune for repair costs, so Kia extended the warranty and allegedly encouraged owners to get the vehicles repaired.
The automaker extended warranty coverage for all 2011-2014 Kia Optimas with 2.0L and 2.4L GDI engines to 10 years or 120,000 miles.
By August 2016, Kia extended the warranties for the 2012-2014 Sorento and 2011-2014 Sportage vehicles equipped with 2.0L and 2.4L Theta GDI engines even though the automaker said the warranty claims were low.
If At First You Don't Recall, Try, Try Again
In October 2016, Kia dealers were declining warranty claims and repairs because customers didn't show proof of oil maintenance, so Kia says it told dealers to go ahead with repairs even without proof of maintenance records.
Then the automaker noticed many owners didn't know about the warranty program because of inaccurate mailing information, so the automaker allegedly went to work to try to contact those owners.
From December 12, 2016 to March 23, 2017, Kia studied the risk of accidents or injuries if the vehicles aren't officially recalled and repaired, and made the decision to issue the recall.
Lawsuits have also targeted Kia vehicles for GDI engine problems, including one filed in June 2016 about the Kia Optima, Sportage and Sorento.
The Kia Optima, Sorento and Sportage recall should begin May 25, 2017. Affected owners who have questions should call Kia customer service at 800-333-4542 and ask about recall number SC147.
The Kia recall was announced the same time Hyundai announced a recall of 572,000 Sonata and Santa Fe Sport vehicles for the same engine failure problems.
CarComplaints.com has engine complaints about the vehicles named in the Kia recall: