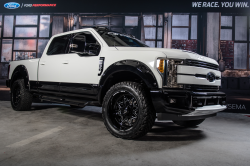 — Ford trucks equipped and sold with lift kits are the focus of a proposed class-action lawsuit that alleges the tire jacks and spare tires sold with the trucks cannot safely be used with the lifted trucks.
The proposed Ford class-action lawsuit includes all persons who purchased or leased in the U.S. new Ford trucks equipped with lift kits and larger-than-stock tires.
Plaintiff Matthew Leverett says he purchased a 2017 Ford F-250 Super Duty truck equipped with a non-compatible jack and spare tire. The truck was equipped with a pre-installed 6-inch lift kit and was fitted with tires that were larger in diameter than those on stock trucks.
The plaintiff claims the window sticker (Monroney label) said the truck came with a jack and spare tire, but the lawsuit alleges the sticker never mentioned the jack and tire couldn't be used with the lifted F-250 Super Duty.
The spare tire is allegedly useless because it is too small to replace any of the truck's larger-diameter tires and the tire jack is too small to sufficiently raise the truck to change a tire or perform other maintenance.
Mr. Leverett says he has been "injured" because he paid too much for a truck without a compatible tire jack and spare tire. In addition, the tire jack is allegedly dangerous to safety if a truck owner tries to use the small jacks on the lifted trucks.
Along with the claims about the jacks and spare tires, the plaintiff also claims there are problems with the lifted trucks when trying to get them repaired under warranty.
According to the lawsuit, repairs that are required because of the lift kits or larger tires are apparently not covered by Ford's manufacturer's warranty if the repairs are made at a dealership other than the specific dealership where the lifted truck was purchased.
Mr. Leverett claims this fact is not explained or disclosed to consumers when purchasing or leasing the trucks.
The Ford truck jack and spare tire lawsuit was filed in the U.S. District Court of the Western District of Oklahoma - Matthew W. Leverett, et. al., v. Ford Motor Company.
The plaintiff is represented by Federman & Sherwood, and Wolf Popper LLP.
UPDATE - September 17, 2017: The plaintiff has dropped the lawsuit without going into details about his decision. Mr. Leverett told the judge it was possible the lawsuit could be filed again in the future.