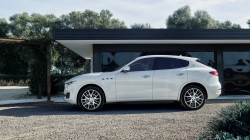 — Maserati is recalling 3,300 model year 2017 Levante SUVs to fix problems that cause the transmissions to shift into neutral or possibly cause the engines to shut down.
In January 2017, Maserati recalled Levante S vehicles for the same problems, but the automaker learned of more reports and attempted to replicate the symptoms and found the process difficult.
Engineers finally created and validated new software and started using it in production on February 21, 2017. Three days later the automaker decided to conduct a larger recall than the previous recall.
Maserati says it determined the SUVs were manufactured with engine software issues that occur when the vehicle is operated at about 2 miles per hour at very low engine RPM, similar to stop-and-go traffic. In these conditions, the transmission may shift into neutral or possibly cause the engine to shut down and create a serious crash hazard.
Maserati dealers can fix the problem by uploading new software into the engine control modules.
Levante owners with questions should contact Maserati customer service at 201-510-2369.