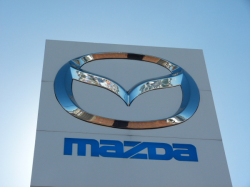 — Mazda is recalling about 460,000 MAZDA3, MAZDA6 and Mazda CX-5 diesel vehicles worldwide at risk of stalling engines, gas leaks and fires.
Information about the recall is limited as Mazda has not named where the vehicles are located and specific model years haven't been named. However, the automaker says all the vehicles were built between 2008 and 2017.
Mazda Japan says the MAZDA3, MAZDA6 and Mazda CX-5 vehicles have problems in the fuel systems of the diesel engines that can cause fuel leaks and stalling engines.
Mazda says the fastening force of the injector mounting nut is faulty and can cause too much pressure on the injector gasket. If this condition occurs, the fuel blows through the cylinder head causing the engine oil to become carbonized and clog the oil strainer. The automaker says a driver may notice an oil pressure warning light illuminated.
In addition, the sealing performance of the fuel return hose can deteriorate and lead to cracks inside the hose, causing fuel to leak from the hose.
The diesel engines can also stall because pressure in the cylinders and the closing force of the intake valves can decrease, catching soot between the intake valves and the valve seats. If this occurs, the engine will have poor compression and unstable rotation, causing the engine to stall.
Mazda further says other problems can occur concerning voltage changes in the injector control circuit that can exceed the allowable current in the circuit, causing short circuits and blown fuses, resulting in a stalled engine.
The automaker says dealers will make sure the injector mounting nuts are tight and also check the hydraulic pressure. If problems are seen with the pressure, dealers will clean the interior of the engines and replace the oil and oil strainers. In addition, dealers will replace the fuel return hoses.
The National Highway Traffic Safety Administration has not announced if the Mazda recall affects U.S. owners, however, CarComplaints.com will update this page with any additional information.
Read owner-reported complaints about the MAZDA3, MAZDA6 and Mazda CX-5.