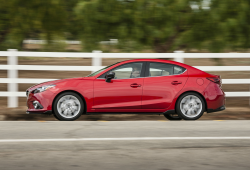 — Mazda is recalling nearly 228,000 Mazda3 and Mazda6 cars to fix parking brake problems that may cause the cars to roll away.
The 2014-2015 Mazda6 and 2014-2016 Mazda3 cars have brake calipers where water can enter and cause the parking brake actuator shafts to corrode and bind. This can cause the parking brakes to not engage or completely disengage.
Mazda first learned about possible problems in April 2015 when a Canadian owner reported the brakes dragged on a Mazda6. Mazda looked at the returned brake caliper and found the actuating shaft in the rear brake caliper, which operates the parking brake, became corroded and seized in the brake caliper.
Mazda says it assumed the cause was high-pressure water sprayed on the brake caliper that went beyond the limits of pressure.
August 2015 saw seven more reports from the U.S. about parking brakes on Mazda6 cars, something that caused the automaker to open an investigation.
Engineers determined a design fault of the protective boot in the rear caliper had bad seals that allowed water to enter. Mazda then designed a new sealing system and tested it against invading water and found it protected the parts.
The recall should begin in August 2017 when dealers will replace any corroded parking brake actuator shafts. If no corrosion is seen, dealers will replace the protective boot kits with improved quality parts.
Owners may contact Mazda at 800-222-5500 and refer to recall number 1217F.