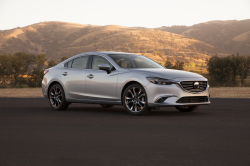 — Mazda is recalling nearly 58,000 Mazda6 cars because of problems with the front passenger seat frames. The 2015-2016 Mazda6 cars can lose their power steering and disable the ability of the passenger airbags to deploy.
Mazda says on the front passenger seat, there may be too much weld spatter on the seat from when the cars were manufactured. That welding material can make contact with the occupant classification sensor wire harness each time someone sits in the seat.
Mazda6 owners can expect damage to the wiring that can lead to a short-circuit and trigger multiple warning lights as the airbag is disabled and the power steering is lost.
The automaker received a report in December 2015 about a driver seeing all the dash lights illuminate at the same time. Engineers investigated and confirmed the insulation on the occupant sensor wiring was damaged due to the wires rubbing against the weld spatter on the seat frame.
Mazda altered production of the cars to add protected pads to the Mazda6 seat frames that seemed to fix the problem.
However, in February 2016 the automaker determined a low chance for disasters to happen because a driver could still control the car even if the problem occurs while driving.
November 2016 rolled around and Mazda received a total of 13 field reports about the harness problems, but the automaker said that overall, the frequency of failures was still low.
Mazda says the decision was made to order the recall after meeting with the National Highway Traffic Safety Administration about results of an internal investigation.
The 2015-2016 Mazda6 cars were manufactured November 3, 2014, through December 9, 2015.
The Mazda6 recall is scheduled to begin September 29, 2017. Mazda dealers will attach protective pads on the seat frames, and if the harness wiring has already been damaged, dealers will add insulating tape on the harness.
Owners of affected 2015-2016 Mazda6 cars may call the automaker at 800-222-5500 and ask about recall number 1517H.
CarComplaints.com has complaints about the Mazda cars named in the recall:
Mazda Mazda6 - 2015 / 2016 / All model years