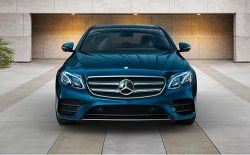 — Mercedes-Benz is recalling about 430 vehicles in three separate recalls for three separate safety defects. Most of the vehicles (411) are recalled because the roof-mounted spoilers can detach while driving.
Mercedes-Benz E300 and E300 4Matic
The 411 vehicles include the 2016-2017 E300 and 2017 E300 4Matic that can cause a circus while in front of other vehicles on a road. Mercedes says the roof-mounted spoilers may not have been attached properly and can detach and fly off the vehicles.
Not a good scene if the spoilers land in the road or on top of another vehicle traveling behind.
The recall should begin in June 2017 when dealers will inspect and if needed, replace the roof-mounted spoilers.
Mercedes-Benz E300 and E300 4Matic
The automaker says 15 model year 2017 E300 and E300 4Matic vehicles have software problems in the widescreen instrument clusters that can cause a failure of the instrument clusters to display anything when starting the vehicles.
In addition, the display can reset itself while driving. Both problems violate federal safety standards because a blank display won't provide vital information such as vehicle speed.
The Mercedes recall will begin in May 2017, likely toward the end of the month. Mercedes-Benz dealers will fix the display problems by updating the instrument cluster display software.
Mercedes-Benz C300
Add another three model year 2016-2017 Mercedes-Benz C300 vehicles that need repaired, this time because the electrical contacts for the power steering electric motors may not have been properly welded.
The automaker says bad welds will cause bad electrical contacts and a loss of electrical contact will cause a loss of power steering. Losing power steering unannounced can be trouble, even more so while driving around curves or at slow speeds.
Dealers will replace the electric power steering racks once the recall begins in June 2017.
For answers about any of the three recalls, contact Mercedes-Benz at 800-367-6372.