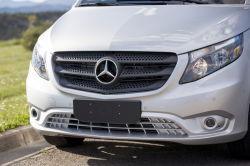 — Mercedes-Benz is recalling about 111 vans in two recalls, with the largest recall ordered to prevent front wheels from falling off the vans.
About 109 model year 2017 Mercedes-Benz Metris vans have front axle wheel bearings that may not have been installed and seated properly, leaving the front wheels with the ability to fall away while driving.
Mercedes dealers will need to inspect and correct the front axle wheel bearing retaining rings, but the automaker doesn't know when the recall will begin.
Metris van owners with questions should call 877-762-8267.
The second recall involves only two model year 2016 Mercedes-Benz Sprinter 2500 and 3500 vans with label problems.
Mercedes says the labels on the B-pillars have higher load capacity ratings than the vans are designed for, something that can cause drivers to overload the Sprinters.
As in the case of the Metris recall, Mercedes-Benz doesn't know when the Sprinter recall will begin. Dealers will replace any labels that have incorrect load capacity ratings.
Customers with questions should call 877-762-8267.