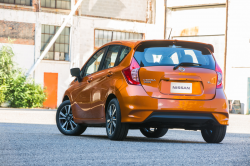 — Nissan is recalling about 510 model year 2017 Versa and Versa Note cars for Takata airbag trouble, but the automaker says it's not related to the millions of vehicles at risk of the airbags exploding.
Working with Takata, Nissan engineers determined a ring plate used to secure the airbag cushion to the passenger frontal airbag assembly can fail. The failure won't cause a rupture of the airbag inflator, but in a crash the airbag won't deploy properly.
The problem was noticed in February 2017 during a lab test at Takata when an airbag failed to deploy properly. Takata opened an investigation to determine what caused the failure and notified Nissan about possible problems.
While Takata conducted tests on the airbag modules, Nissan quarantined all suspect airbag modules at two Mexico plants based on info from Takata.
In March, it was determined a ring plate was what failed during the initial test due to a lack of strength of the plate and by April, Nissan found nearly 1,900 airbag modules in Mexico may contain the defect. Out of the 1,900, Nissan found 509 Versa cars in the U.S. were shipped with the subject airbag modules.
The entire defect is unique to a specific lot of Takata passenger airbag modules only used in the affected Versa and Versa Note cars.
The automaker says it's unaware of any incidents attributable to the airbag problems, but to keep it that way, the Versa cars need to be repaired.
Nissan doesn't know when the airbag recall will begin, but dealers will eventually replace the frontal passenger airbag modules.
If you own a 2017 Nissan Versa or Versa Note and have questions, please call 800-647-7261.
CarComplaints.com has complaints about Nissan Versa and Nissan Versa Note cars.