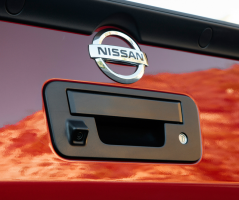 — Owners of Nissan Frontier, Titan and Xterra trucks and SUVs can receive free software updates that will fix any potential problems with rollover curtain airbags deploying when they shouldn't.
Nissan says this isn't a recall, but more like a voluntary service campaign that includes 126,308 Nissan Titans, 296,151 Frontiers and 120,755 Xterras, bringing the total to 543,214 trucks and SUVs that qualify for software updates in the U.S.
Although it's not known how many Canadian models are included, Nissan said those owners will also have their trucks and SUVs repaired for free.
Nissan says the affected trucks and SUVs include the 2004-2014 Nissan Titan, 2005-2014 Nissan Frontier and 2005-2014 Xterra vehicles within a specific production range.
Affected owners should have received instructions about the service campaign and what work needs to be done by dealers. The remedy doesn't have need for parts or accessories as the fix for the rollover airbags is a simple update of the system software.
Nissan issued the service campaign after reports of side rollover curtain airbags that deployed without need of a crash. In many cases, the vehicles were being used off-road or on rough unpaved roads. The airbag control unit rollover-sensing calibration logic can cause the curtain airbags to suddenly deploy, leaving occupants in shock as to what just happened.
Nissan said the problem is more likely to occur if one side of the vehicle is tilted higher than the other.
If you have previously replaced the rollover curtain airbag because of unintended deployment and the repair was not covered by Nissan, you should contact the automaker and ask to be reimbused the money you spent.
Owners who want reimbursed will need paperwork to prove you had the previous work performed, documents such as repair orders and proof of payment, plus you'll need proof of vehicle ownership if the work cost more than $1,000.
The automaker says the updates to the control unit software should prevent those unintended airbag deployments while leaving the system perfectly capable of deploying in a real crash.
Once the truck or SUV is at the dealership, it should take technicians about two hours to complete the software updates, but Nissan warns that sometimes things may take longer.
If by some chance you haven't received a letter about this service campaign, please call Nissan at 800-867-7669. Canadian Nissan owners with questions should call Nissan Canada at 800-387-0122.
The automaker says the airbag control unit software update will completely fix the vehicles, but until the work is performed, customers should avoid driving off-road.
Unintended airbag deployments have caused Nissan problems in the past, such as in March 2017 when 2012 Nissan Versa cars were recalled because the airbags could deploy from slamming the doors.
And separately, a class-action lawsuit was filed alleging side airbags were deploying for no logical reasons in Nissan Frontier trucks.