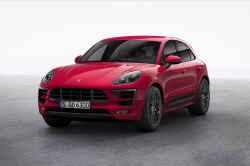 — Fuel pump problems and gas leaks have caused Porsche to recall nearly 51,500 model year 2015-2017 Macan S, Macan Turbo, 2017 Macan, Macan Turbo with the Performance Package and Macan GTS SUVs.
The Porsche recall stems from a 2016 recall of Audi vehicles for the same fuel pump problems. Porsche had been monitoring any possible problems in models equipped with the same fuel pump parts looking for hairline cracks that can appear on the fuel filter flanges of the fuel pumps.
Those cracks can allow small amounts of gas to seep out and increase the risk of a fire, along with the distinct smell of gasoline.
Engineers determined aging and oxidization weaken the parts, and components in the fuel enter the fuel filter flange from the inside and cause too much pressure.
According to Porsche engineers, it's the aging and pressure that can cause small cracks and fuel leaks. About the only warning a driver will have is the smell of gasoline, unless a fire breaks out, something Porsche says hasn't occurred in the Macan vehicles.
Porsche dealers will replace the fuel filter flanges if cracks are discovered and if no cracks are found, dealers will add a protective film to the filter flange of the fuel pump to protect the flange.
The automaker doesn't know when the recall will begin, but Macan owners with questions may call Porsche at 800-767-7243 and refer to recall number AH06.