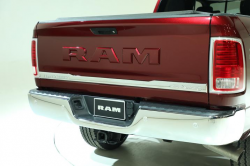 — A Ram 2500 and 3500 selective catalytic reduction (SCR) lawsuit alleges Fiat Chrysler (FCA US) and engine manufacturer Cummins knowingly sold hundreds of thousands of Ram trucks with defects that cause lower gas mileage, illegal emissions levels and expensive repairs.
The proposed class-action lawsuit includes current and former owners and lessees of 2013-2017 Ram 2500 and 3500 with 6.7-liter Cummins diesel engines.
According to the lawsuit, the selective catalytic converter system breaks down and the filter gets clogged, requiring more fuel to be injected to burn it off. This allegedly reduces the truck's MPG, costing consumers more in fuel.
The plaintiffs claim FCA and Cummins discovered at least as early as 2014 about the problems with the SCR systems, based on documents from a different lawsuit.
That previous lawsuit involves both companies going after each other in court, and in filings from that case Cummins says a recall to fix the defect was "in the public interest to ensure that Vehicles which are not emissions[-]compliant are appropriately recalled and remedied to avoid future harm to the environment."
Cummins says Chrysler refused to recall the vehicles because of the money involved for a recall. Cummins also says it "discovered that FCA had been receiving an increasing number of warranty claims relating to the SCR and emissions issues in the Vehicles for several years prior to Cummins discovering the emissions issues in the Vehicles."
In the latest consumer-based lawsuit, attorneys say they consulted with emissions experts and investigated the Ram trucks and found the trucks have selective catalytic converters that break down and emit emissions far above legal limits. Additionally, the trucks allegedly have diesel particulate filters that get clogged with soot, something that causes the trucks to enter regeneration mode, thereby burning more fuel to clear the filters.
Ram 2500 and 3500 owners who have their trucks serviced at dealerships have their power control modules "flashed" or reprogrammed to burn even more fuel in an attempt to burn off the soot. The plaintiffs claim Ram 2500 and 3500 owners are often not told they are having their systems flashed, either before or after the dealerships work on their truck.
After the flashing, truck owners allegedly experience an average decline in fuel economy of 25 percent.
The lawsuit says plaintiff Forrest Poulson had his truck "flashed" three times, so he asked the mechanic why they were doing it. The mechanic allegedly replied, "I will deny this later, but I can tell you that the PCM updates are diverting fuel into the exhaust system to make it burn hotter so that it reduces the amount of emissions leaving the tailpipe."
The mechanic also allegedly told him that as much as 25 percent of the fuel is being diverted through the exhaust system to heat up the emissions.
The plaintiffs say tests performed by Cummins show the emissions exceed limits by 50 percent and when the emissions system shuts down or stops functioning, drivers receive a warning that the trucks are about to go into limp mode.
According to court documents, another plaintiff was pulling his camper to take his family camping and was driving from Pennsylvania to Kentucky. More than 175 miles outside of his hometown he received the limp mode warning, so he found an FCA dealership but they did not have the parts to fix the truck.
Rather than risk the truck going into limp mode again, the plaintiff traded in his truck on the spot in Bedford, Pennsylvania, for a Ford. This trade-in allegedly cost him $5,000 in accessories that he installed on his truck that were lost, plus at least $2,100 in taxes and additional fees to buy the Ford.
Both Chrysler and Cummins are facing charges of fraudulent concealment, breach of warranty, violations of the Racketeer Influenced and Corrupt Organizations (RICO) Act and violations of state consumer protection laws.
The Ram 2500 and 3500 selective catalytic reduction (SCR) lawsuit was filed in the U.S. District Court for the Eastern District of Michigan - Jeremy Raymo, Forrest Poulson, Gary Gaster, Brendon Goldstein, and Manuel Pena, et al., v. FCA US LLC, and Cummins Inc.
The plaintiffs are represented by Hagens Berman, the Miller Law Firm PC, Seeger Weiss LLP, Carella, Byrne, Cecchi, Olstein, Brody & Agnello, P.C., and Mastanado & Artrip.
Attorneys for Chrysler have been busy over the past year gathering documents related to alleged emissions problems, including in Ram trucks. In 2016, owners of older Ram trucks sued FCA and Cummins over allegedly illegal emissions, and a separate emissions lawsuit targeted Ram and Jeep EcoDiesel vehicles.