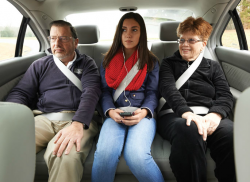 — Two consumer groups have sued the U.S. Department of Transportation (DOT) over the lack of rear seat belt reminder warnings, even though a final safety standard should have been issued by October 2015.
Federal safety standards require the driver's seat to be equipped with a seat belt warning system that activates when the driver doesn't have their seat belt buckled, but the law doesn't apply to passengers in rear seats.
The lawsuit was filed by the Center for Auto Safety and KidsAndCars.org to push Secretary Elaine Chao of the Department of Transportation into action on a law Congress passed in June 2012 that requires seat belt reminder warnings for all seating positions in the rear of cars. The warnings would work as reminder systems work for front seat occupants when they don't buckle up.
The legislation mandated the secretary of the DOT initiate a rulemaking proceeding no less than two years after the effective date of the statute, which was October 1, 2012. The final rule was to be in place no later than three years after the date of the enactment. According to the lawsuit, here we are five years later and nothing has been done to provide mandated rear seat belt warnings.
The consumer groups say installing rear seat belt reminder warning systems in cars will save thousands of lives per year and prevent all kinds of injuries to occupants, especially youngsters riding in back.
According to the lawsuit, a mandated audio reminder would increase the odds that rear seat passengers will wear their seat belts, and the lawsuit is complete with plenty of statistics to back up the argument for seat belt reminders for rear seat occupants.
Nearly 14,000 car occupants who did not wear seat belts were killed in 2008 alone.
Between October-December 2015, 291 unrestrained occupants were killed and 180 suffered serious injuries.
During the 5-year period from 2004 to 2008, seat belts saved over 75,000 lives.
In 2014, 58 percent of back seat occupants killed in crashes were not buckled up.
Unrestrained occupants in rear seats are nearly 8 times as likely to sustain a serious injury in a crash as restrained occupants.
Seat belts used by rear seat passengers reduce the risk of fatal injury by 44 percent, but for passengers in vans or SUVs, that number rises to 73 percent.
In addition, a 2003 National Academy of Sciences report found that 73 percent of drivers reported they had buckled their seat belts after being reminded to do so by a reminder system.
The rear seat belt reminder lawsuit was filed in the U.S. District Court for the District of Columbia - Kids and Cars, Inc. and the Center for Auto Safety, v. Elaine Chao, and the National Highway Traffic Safety Administration.
The plaintiffs are represented by Meyer Glitzenstein & Eubanks.