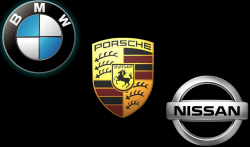 — Three automakers selling cars in South Korea have been slapped with fines totally $5.9 million (7.17 billion won) for falsifying documents related to emissions tests.
According to the South Korean Ministry of Environment, vehicles from BMW, Nissan and Porsche were illegally certified for sale based on fabricated documents.
The Ministry started looking at various automakers after the mess caused by Volkswagen hiding illegal software in its cars for years. South Korea took a strong stance against VW by indicting an executive of the automaker and banning the sales of 80 Audi, Bentley and VW models.
Then in May 2016, the South Korean National Institute of Environmental Research found vehicles from Hyundai, Kia, Mercedes-Benz and others had higher emissions levels than advertised. That same month, regulators fined Nissan after saying Nissan Qashqai compact SUVs were equipped with illegal devices to cheat on emissions tests, a charge heavily denied by Nissan.
South Korea accused Nissan of installing defeat device software that is used to turn off the exhaust-reduction system automatically under regular driving temperatures. Government officials say the system switches off when the engine's intake temperature reaches 95 degrees Fahrenheit, much lower than other models South Korea investigated.
Although Nissan paid the fine, the automaker sued South Korea and denied the vehicles were equipped with defeat devices. Nissan argues it is well within the law because the software in the vehicles is used to prevent the engines from overheating.
South Korea says 10 models will need to be fixed and sent back through the emissions certification process before they can be sold in the country.
The Ministry says the following models were sold with forged documents, with six models currently for sale as new in the country and four models that have either been or will shortly be discontinued.
Infiniti Q50
Nissan Qashqai
BMW X5M
Porsche Macan S Diesel
Porsche Cayenne SE-Hybrid
Porsche Cayenne Turbo
Porsche 918 Spider
Porsche Cayman GTS
Porsche 911 GT3
Porsche Panamera S-Hybrid
This latest move by South Korea follows word that criminal complaints will be filed against five Volkswagen executives as the automaker gets hit with another fine, this time for $32 million. The Fair Trade Commission found Volkswagen intentionally deceived South Korean consumers through false advertising and the execs knew all about it.