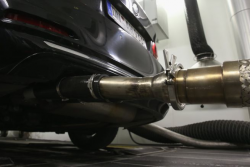 — Volkswagen is sending about 2,500 illegal diesel vehicles out of South Korea and back to Germany after the vehicles were parked following a 2016 sales ban ordered by the government.
South Korea sent the vehicles on their way based on a 2016 ban of about 80 models put in place by the Ministry of Environment, which left thousands of VW diesel vehicles parked at a port.
The deportation of the diesel vehicles comes as South Korean prosecutors try to nail VW executives to the wall for alleged violations of clear air laws. Johannes Thammer, Park Dong-hoon and Trevor Hill say they did nothing wrong and were caught up in the emission scandal without warning.
Thammer, head of Audi Volkswagen Korea, says he had no idea the diesel vehicles were imported illegally. Park Dong-hoon was in charge of Volkswagen's operations from 2005-2013 and says he's not even sure of the allegations against him.
All three are accused of being part of an illegal scheme to import about 120,000 diesel vehicles into South Korea from 2008 to 2015 and covering up the fraud by falsifying reports.
Volkswagen Korea says the government has made a bigger deal of the diesel issue than necessary and the automaker says it will try to win an appeal of being fined more than $32 million by the South Korean Fair Trade Commission.
It's likely one VW executive did a little talking to prosecutors that helped them make a case against other management. Identified only by his surname, Yoon, he was first indicted in July 2016 after admitting his role in illegally certifying the diesel vehicles for sale.
Yoon received a prison sentence of more than a year but will likely face more time as prosecutors look for additional charges.
The circus started by Volkswagen has expanded in to numerous other automakers, and South Korean prosecutors haven't taken it easy on any of them.
In May 2016, the South Korean National Institute of Environmental Research found vehicles from Hyundai, Kia, Mercedes-Benz and others had higher emissions levels than advertised. Then Korean regulators fined Nissan after saying Nissan Qashqai SUVs were equipped with illegal defeat devices to cheat on emissions tests.
South Korea also fined BMW, Nissan and Porsche nearly $6 million for importing and selling cars that were certified for sale based on fake documents.
While Volkswagen is the primary name mentioned when talking about illegal emissions systems, other automakers both inside and outside the U.S. are in the midst of their own emissions quandaries.
German prosecutors in Stuttgart are investigating employees at Daimler over allegations of fraud and false advertising concerning diesel vehicles.
Daimler had previously said its diesel vehicles had been cleared by German officials after emissions tests were conducted. However, German media report some Daimler diesel cars may have been altered to pass those emissions tests, a claim that popped up after a Daimler employee allegedly blew the whistle about the cheating.
Daimler has already recalled some vehicles in Europe because of problems related to the emissions systems, namely involving parts used to control temperatures in the diesel vehicles.