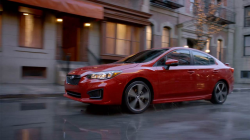 — Subaru is recalling more than 25,500 model year 2017 Impreza cars to fix rear-view camera display screens that can go blank or freeze, leaving owners without the ability to know what is happening behind them when backing up.
Subaru opened an investigation in December 2016 after receiving a report about a blank screen on the infotainment unit while the vehicle was in reverse.
The automaker spent the next few months collecting parts from the field, and engineers finally determined the screens were freezing and going blank due to memory issues. Subaru says a bug in the software causes problems with the memory during initial boot-up of the system.
The Subaru Impreza recall should begin March 20, 2017. Subaru dealers will update the software that controls the infotainment systems.
If you own an affected 2017 Subaru Impreza and have questions, please call the automaker at 800-782-2783 and use recall number WTN-74.
Rear-view cameras have caused other automakers problems, namely a December 2016 recall of Maserati cars to fix rear-view camera systems and a recent lawsuit filed against Volvo after owners reported backup camera systems that failed.
CarComplaints.com has owner-reported complaints about Subaru Impreza cars.