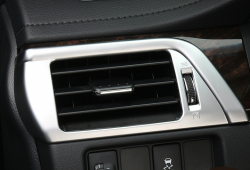 — A Toyota Camry air conditioning smell lawsuit will continue after a federal judge refused Toyota's motion to dismiss the suit, although the judge did drop a few claims concerning 2011-present Camrys.
The class-action lawsuit was filed by Camry owners Gloria Ortega and Alfred Salas, both who say the evaporator collects moisture due to condensation as it absorbs heat from the passenger compartment. Dead insects, leaves, moisture and pollen allegedly enter the air conditioning system from outside vents and causes mold to grow.
The plaintiffs claim Toyota has known about the air conditioning smell problem since 1997 because a technical service bulletin was sent to dealers telling them how to handle complaints about musty smells in the vehicles.
The plaintiffs say Toyota dealerships often make owners pay hundreds of dollars for repairs to the air conditioning and heating systems, but the plaintiffs say even those repairs don't fix the odor problems.
The Toyota Camry lawsuit also alleges a repair manual for the 2005 Camry says a common complaint from owners concerns smells coming from the air conditioning system, but there is no permanent repair for the problem.
According to the complaint, the mold causes health problems such as wheezing, skin and eye irritation and other symptoms, especially people who are allergic to mold.
The plaintiffs were allowed to amend their original lawsuit after the judge had dismissed some of the claims, something that caused Toyota to say the amending complaint was just a rehash of the original. However, while the judge dismissed a few claims in the amended suit, the judge said the rest of the amended complaint did its job.
Toyota succeeded at convincing the judge to dismiss warranty claims filed by one of the lead plaintiffs who had admits any bad smells from the air conditioning disappears in seconds, in comparison to a different plaintiff who claims the odor can last up to 10 minutes.
The judge also allowed claims to continue concerning defects in the design of the cars that may cause air conditioning smells and mold growth. Specifically, the judge found enough evidence that design defect claims could continue based on alleged problems with how the cars drain water and condensation.
The plaintiffs claim drainage problems allow organic matter to build up in crevices and material around the evaporators.
The judge further said claims of fraud can also continue because technical service bulletins sent to dealers is enough to indicate the automaker knew about possible defects in the air conditioning and heating systems.
The Toyota Camry air conditioning smell lawsuit was filed in the U.S. District Court for the Central District of California - Alfred Salas, et al., v. Toyota Motor Sales, USA Inc., et al.
The plaintiffs are represented by Capstone Law APC.
CarComplaints.com has complaints about smells that come from the 2012 Toyota Camry, 2013 Toyota Camry and the 2014 Toyota Camry.