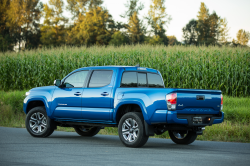 — Toyota Tacoma trucks are recalled to fix problems that can cause the engines to misfire and stall.
Toyota is recalling about 36,000 model year 2016-2017 Tacoma trucks equipped with 6-cylinder engines, with about 32,000 of those trucks located in the U.S.
The automaker says the crankshaft timing rotor may have been built with too much of the coating used to protect against corrosion. The extra coating can cause a sensor to malfunction and let the driver know by kicking on a warning light at the same time the engine starts running roughly, misfiring or stalling.
Toyota says the problem can occur at any speed, a dangerous proposition if the engine stalls while driving highway speeds.
The recall is expected to begin July 17, 2017. Toyota dealers will replace the crank position sensor with an improved sensor.
Owners may contact Toyota customer service at 800-331-4331. Toyota's number for this recall is H0H.
The Tacoma sensor recall follows another Toyota Tacoma recall from May when 228,000 model year 2016-2017 Tacomas were called back to dealerships because of leaking rear differentials that could cause the trucks to go out of control.
Read what people say about their 2016 Toyota Tacoma, 2017 Tacoma, or other model years of Toyota Tacoma trucks.