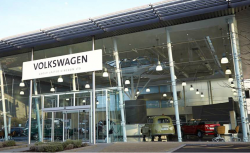 — Volkswagen UK complaints are still being filed even after cars were allegedly fixed to make their emission systems legal. Numerous UK media outlets report VW owners say their cars are running worse than before the automaker made repairs.
Out of about 1.2 million affected diesel vehicles in the UK, Volkswagen says about 540,000 have been repaired, most that required an allegedly simple software update.
UK owners of Audi, Seat, Skoda and VW diesel vehicles with emissions problems have complained from the beginning about the fact U.S. 2-liter owners have been treated to buybacks and compensation worth $10 billion while UK owners are stuck with repairs that will allegedly fix the cars.
VW admits the company would go bankrupt if it compensated UK owners as it did U.S. owners, and the automaker was given the go-ahead by UK regulators to skip buybacks and compensation.
It must be noted the number of UK complaints filed after the cars were allegedly fixed is small compared to the number of repaired cars, and there is no proof any alleged problems are caused by VW's repairs. However, about 3,500 owners have made complaints about their cars experiencing all kinds of troubles since the emissions systems were worked on.
Some owners say their cars broke down shortly after VW made emissions repairs and other owners say it's like driving different cars.
Based on UK complaints, owners say their cars have worse fuel economy than they did before the automaker worked on the cars. Other owners say they are having problems starting their cars, while others complain the cars experience a loss of power without warning.
In addition, owners say they hear noises they never heard before and in some cases, the cars decelerate without warning.
UK owners say when they complain to dealers after the cars were allegedly repaired, the dealers say the owners will need to pay for repairs.
A British law firm is investigating if the problems are directly caused by software updates or any other work performed by VW dealers and said it will share details of the investigation with UK regulators. The UK class-action lawsuit includes more than 30,000 owners and more are climbing onboard each week.
Volkswagen, prior to the UK agreement, promised it would investigate any complaints made by owners after the emissions repairs. The automaker says it's aware of the complaints and all complaints will be addressed.
Word of the UK complaints has left some owners in doubt about having the emission systems repaired. Technically, those owners aren't required to participate in related recalls, but environmental regulators will likely step in because they want the illegal emission systems fixed.
Have a complaint about your Volkswagen vehicle? Add your complaint here, about any vehicle.