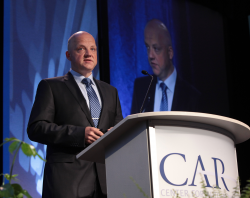 — Oliver Schmidt, the former general manager of Volkswagen's U.S. Environment and Engineering Office, has pleaded guilty for violating the U.S. Clean Air Act for his part in the scheme to sell and market allegedly "clean diesel" vehicles in the U.S.
Schmidt, 48, pleaded guilty to one count of conspiracy to defraud the U.S., to commit wire fraud and to violations of the Clean Air Act.
Schmidt was indicted with five other VW employees but is likely the only one that will face justice in the U.S. Schmidt was arrested in January as he was trying to leave Florida for his home in Germany, but the other indicted employees are in Germany and that country won't extradite its citizens.
The remaining five include Heinz-Jakob Neusser, Jens Hadler, Richard Dorenkamp, Bernd Gottweis and Jürgen Peter. All are charged with one count of conspiracy to defraud the U.S. and U.S. customers and for violations of the Clean Air Act.
Schmidt admitted he mislead U.S. regulators and customers who purchased "clean diesel" vehicles while those vehicles were emitting up to 40 times the legal limits of nitrogen oxides. According to federal prosecutors, Schmidt was informed about the illegal software in 2015 and told the "defeat devices" had been installed in hundreds of thousands of U.S. vehicles for years.
As part of pleading guilty, Schmidt admitted he talked with other VW employees in 2015 about how to respond to questions from federal regulators and do it without revealing the existence of the emissions defeat devices.
Mr. Schmidt also met with management in 2015 and was told to meet with the California Air Resources Board (CARB) for approval to sell diesel vehicles without telling CARB about the emissions software. Schmidt did as he was told and in two meetings with CARB in 2015, he said he didn't know why the clean diesel vehicles were emitting high emissions on the roads.
Schmidt also knew Volkswagen was marketing the clean diesel vehicles all while those cars contained the illegal emissions software.
Oliver Schmidt is scheduled to be sentenced December 6 when he faces up to seven years in prison. It's also possible the U.S. will deport Schmidt and tell him never to return.
In addition to Schmidt, Volkswagen engineer James Robert Liang, 62, pleaded guilty to U.S. Department of Justice criminal charges in 2016 for his part in creating and hiding the defeat devices.
Former Audi manager Giovanni Pamio has also been charged by U.S. prosecutors for alleged conspiracy to defraud U.S. regulators and customers by creating and concealing the cheating software. Unlike the other five indicted employees who are all German citizens, Pamio is an Italian citizen and may not be protected by Germany.