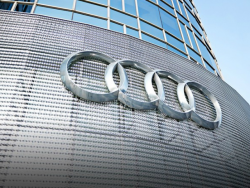 — Former Audi manager Giovanni Pamio has been charged by U.S. prosecutors for alleged conspiracy to defraud U.S. regulators and customers by creating and concealing software to cheat U.S. emissions tests in thousands of "clean diesel" vehicles.
The affected vehicles named in the complaint are all equipped with 3-liter diesel engines:
2009-2016 VW Touareg
2009-2015 Audi QT
2013-2016 Porsche Cayenne
2014-2016 Audi A6 Quattro
2014-2016 Audi A7 Quattro
2014-2016 Audi A8 L
2014-2016 Audi Q5
2016 Porsche Macan
Prosecutors say an unnamed employee who works in Audi's Diesel Engine Development Department is working with the U.S. in exchange for immunity. Known only as the "cooperating witness," prosecutors say they believe what the witness has said about the inner workings of Audi and Pamio's part in the scandal.
U.S. prosecutors say Giovanni Pamio was in charge of a team of Audi engineers who knew it was impossible to manufacture diesel engines that could meet strict U.S. nitrogen oxide emissions.
Pamio allegedly told employees to create software for the purpose of cheating emissions tests conducted in the U.S., then once that was accomplished, Pamio knowingly misrepresented that the affected Audi vehicles were legal.
According to the complaint, Pamio worked at the scheme from 2006 to 2015 for the sole purpose of defrauding customers and regulators about the "clean diesel" vehicles.
Although multiple German Volkswagen employees have been indicted in the U.S., Germany won't extradite its citizens, however, Pamio is an Italian citizen and may not be protected by Germany.
In addition, German media are reporting prosecutors have arrested Pamio for breaking numerous German laws, although prosecutors haven't publicly named the subject.
Pamio joins other VW and Audi management and employees indicted by the U.S., including Heinz-Jakob Neusser, Jens Hadler, Richard Dorenkamp, Bernd Gottweis and Jürgen Peter.
One VW exec, Oliver Schmidt, is sitting in a U.S. jail awaiting his fate, and in September 2016, VW engineer James Robert Liang pleaded guilty to criminal charges for his part in creating and concealing the emissions defeat devices.