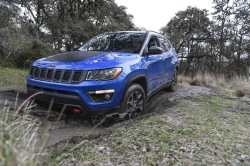 — Fiat Chrysler (FCA US) is recalling more than 2,700 model year 2018 Jeep Compass SUVs with front lower control arms that may not have been welded correctly.
Chrysler opened an internal investigation in April after the automaker discovered a fractured front lower control arm on a vehicle at an Italian port of entry.
Engineers found certain 2018 Jeep Compass SUVs were built with front lower control arms using welds that didn't meet specifications. This can cause a fracture and result in control arm separation that can make it more of a challenge to keep the SUV under control.
While control arm separations can be dangerous, FCA says it hasn't received any warranty claims, no complaints from the field and most importantly, no reports of crashes or injuries.
The 2018 Jeep Compass recall is expected to begin June 20, 2018. Chrysler says its dealers will inspect the SUVs and replace the front lower control arms if needed.
Compass owners with questions or concerns should call FCA at 800-853-1403 and refer to recall number U42.
CarComplaints.com has complaints from drivers of Jeep Compass SUVs and other Jeep models.