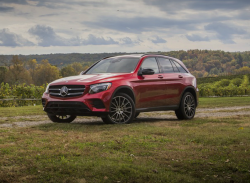 — Mercedes-Benz is recalling seven model year 2019 GLC300 vehicles because they may lose power steering without warning.
The automaker blames the problem on a sensor that can fail inside the electric power steering unit and deactivate power steering.
Even though only seven GLC300 vehicles are recalled, Mercedes says it doesn't have the replacement steering units.
Owners will be mailed interim recall notices on January 25, 2019, then second letters will be mailed once replacement parts are available.
Affected owners may call the automaker at 800-367-6372.