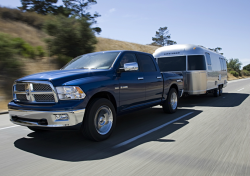 — Fiat Chrysler (FCA US) is recalling 303,000 Ram 1500 trucks because the gas tanks can sag and possibly fall off due to corroded brackets.
The 2009-2012 Ram 1500 trucks are recalled only in the following states where road salt is typically used:
Connecticut, Delaware, Illinois, Indiana, Iowa, Maine, Maryland, Massachusetts, Michigan, Minnesota, Montana, New Hampshire, New Jersey, New York, Ohio, Pennsylvania, Rhode Island, Vermont, Wisconsin and West Virginia.
Chrysler says an internal investigation found that although the brackets can corrode, testing indicates the remaining structural components will help to prevent the fuel tanks from completely falling away.
The Ram 1500 fuel tanks are made of a high-density polyethylene, but any sagging fuel tank is a danger, although FCA says it hasn't received any reports of crashes, fires or incidents where the gas tanks separated from the trucks.
The automaker says about 270,254 trucks are in the U.S., about 26,676 are in Canada, an estimated 1,063 are in Mexico and more than 5,000 trucks are outside North America.
Chrysler says Ram 1500 drivers should pay attention to any straps hanging from the fuel tanks and listen for any noise coming from under the trucks. If you observe these issues or see your gas tank sagging, contact your dealership immediately.
Chrysler didn't say when the recall will begin, but concerned owners should call the automaker at 800-853-1403.
CarComplaints.com will update this page when the National Highway Traffic Safety Administration releases details about the Ram 1500 recall.