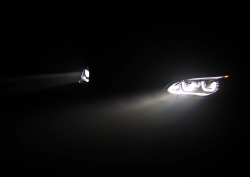 — Adaptive driving beam (ADB) headlights may be finally heading to U.S. roads as the National Highway Traffic Safety Administration (NHTSA) says the systems will decrease nighttime crashes.
Adaptive driving beam headlights automatically move around to create shaded areas around preceding and oncoming vehicles to keep from blinding other drivers while objects on the roads stay well-lit.
The systems are meant to give drivers long-range views without causing glare to other drivers.
The ADB systems use specially designed headlights, hardware, cameras, sensors and software to put the headlights in motion without driver input. Research from NHTSA found the systems provided significant benefits for avoiding collisions with animals, roadside objects, cyclists and pedestrians.
Various automakers have been petitioning the U.S. government to allow ADB systems, starting with Toyota in 2013 and later joined by Audi and BMW.
Europe and Japan have allowed adaptive driving beams for years, but NHTSA wouldn't allow the headlights in the U.S. due to regulations concerning low-beam headlights. Current regulations include maximum levels of light emitted from static low-beam lights, a rule that blocks the concept of adaptive driving beam lights.
Automakers have switched from standard headlamps to halogen, LED and high-intensity discharge lights, but every design has caused thousands of complaints about causing glare to other drivers.
NHTSA didn't go into details about the cost of a new car with adaptive driving beams or how much it will cost to repair damaged systems.
Advances in headlight technology have sometimes done more for the increased cost of vehicles than for real benefits to drivers. Due to the various possible combinations for vehicle headlights, the Insurance Institute for Highway Safety (IIHS) now includes headlight ratings as part of an overall ranking for crashworthiness.
In one series of test, IIHS found the headlights on just one car out of 31 models earned a "good" rating, while a test of pickup trucks found the most expensive trucks were the vehicles that came equipped with the poorest headlights.
In a test of SUV headlights, researchers determined out of 21 model year 2016-2017 small SUVs, not one had headlights rated "good."