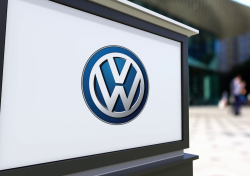 — Volkswagen's $10 billion settlement with about 475,000 2-liter diesel vehicle owners in the U.S. has been upheld by the U.S. Ninth Circuit Court of Appeals.
The three-judge panel ruled VW's objections to the settlement don't hold water because VW owners and lessees received "substantial benefits" from the settlement.
The Ninth Circuit further ruled any of the $10 billion left over after reimbursing customers won't go back to Volkswagen. Court documents indicate the automaker has spent more than $7 billion for the buybacks and compensation for about 350,000 of the 475,000 2-liter diesel vehicles.
Volkswagen said it disagreed with numerous aspects of the settlement, arguing the $10 billion wasn't fair to the automaker, an amount allegedly reached due to faulty court proceedings.
The ruling by the appeals court is another step for closure for the majority of Audi and Volkswagen customers affected by illegal emissions software called "defeat devices" installed on the 475,000 2-liter vehicles.
Due to the scandal that came to light in 2015 after West Virginia University discovered emissions irregularities, VW agreed to settle multiple legal actions with customers of 2-liter vehicles.
Federal Judge Charles Breyer approved a $10 billion settlement for customers entailing the buyback of vehicles in addition to compensation between $5,100 to nearly $10,000 per vehicle.
Although most customers saw it as a great deal, some owners and lessees argued the buybacks and payouts weren't good enough. At least 3,200 customers opted out of the settlement agreement, some by claiming they saw problems in how attorneys estimated trade-in values for the vehicles.
One corporate customer with a fleet of 5,000 affected vehicles opted out because trade-in values were based on 12,500 miles of yearly driving. The customer argued company mileage records showed how unfair the settlement would be for a company with thousands of diesel vehicles.
The decision to install software to alter emissions levels has cost the automaker an estimated $25 billion in the U.S. alone. However, VW is also answering for its crimes in other areas of the world, including its home country of Germany.
Just days ago Volkswagen learned German investigators will be allowed to study internal documents collected in raids conducted in 2017. Germany's Federal Constitutional Court ruled VW can't block investigators from including the secret documents in their investigation into the emissions cheating debacle.