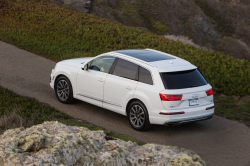 — Audi Q7 squeaky brakes have caused a class-action lawsuit filed for all New Jersey citizens who had brakes installed by Audi dealers between July 19, 2012, to the present.
The lawsuit doesn't target original brakes that came with the Q7s, but instead it's the genuine Audi replacement parts that are included in the complaint.
Plaintiff Donald F. Browne, Jr. purchased a used 2013 Audi Q7 from a New Jersey Audi dealership in September 2014 when the SUV had about 14,825 miles on it. In April 2016 when the Q7 had about 30,000 miles, the plaintiff claims he noticed the original brakes were squeaking, so he took the vehicle to a dealer and had his brakes adjusted.
Browne says the brakes stopped squeaking for a while but the problem returned.
In October 2017, the SUV was taken to the dealer for service with about 42,800 miles on the odometer and technicians recommended the front and rear brake pads and rotors be replaced. Browne says he agreed because the brake systems were expected to last about 40,000 miles.
Browne paid the dealer $924.72 in parts and labor for the front brake pads and rotors and another $813.40 for the rear components.
In April 2018, the plaintiff heard loud squealing noises when he used the brakes even though the replacement parts had been on the Q7 less than 3,500 miles. He took the SUV to technicians who drove the vehicle but couldn't replicate the squealing and squeaking sounds.
The brake system was inspected and the rotors were allegedly slightly grooved and there was discoloration on the rotors.
The plaintiff claims technicians admitted they were aware of squealing replacement brakes on Q7s and Audi had changed the composition of the replacement brake pads and rotors, but the changes only made the squealing worse.
According to Browne, he was told the automaker hoped to have a fix in about two weeks, but the squealing sounds grew louder.
Later the plaintiff claims the dealership told him Audi considered the brake sounds "acceptable" and there was still no fix.
Browne says Audi should have warned him the replacement brakes would squeak and squeal before he paid about $1,700 for the pads and rotors just to be too embarrassed to drive in public.
According to the lawsuit, there are dozens of cheaper aftermarket non-Audi brake pads and rotors that fit the Q7 SUVs but don't make the squealing sounds. The lawsuit also references at least four technical service bulletins issued to dealers about squealing and squeaking brakes on Audi Q7s.
The Audi Q7 squeaky brakes lawsuit was originally filed in the Superior Court of New Jersey but has now been moved to the U.S. District Court for the District of New Jersey - Donald F. Browne, Jr., et al., vs. Audi AG, et al.
The plaintiff is represented by DeNittis Osefchen Prince, P.C.
CarComplaints.com has owner-reported complaints about Audi Q7 SUVs.