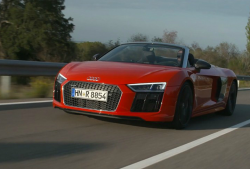 — More than 1,900 Audi R8 cars are recalled because leaking transmission fluid could cause fires once the fluid leaks from the gearbox ventilation hoses.
The 2017-2018 Audi R8 Spyders and R8 Coupes are more likely to leak transmission fluid during racetrack driving or extreme sharp turns at high speeds. The fire risk comes into view if the transmission fluid hits hot exhaust parts.
Audi didn't provide much information about how the problem was discovered, but engineers found the transmission fluid could expand beyond specifications during "extreme racetrack driving/maneuvering situations."
The expanded fluid can foam-up within the gearbox ventilation systems due to high oil temperatures and high transmission input speeds.
A driver will likely notice the smell of hot oil or see smoke rising from the car, something Audi says are automatic signs to immediately stop driving and call an Audi dealer.
The Audi R8 and R8 Spyder recall will begin October 31, 2018, when dealers will begin replacing the single gearbox ventilation hoses with double hoses.
Customers with questions or concerns should call Audi at 800-253-2834 and refer to recall number 34J1.