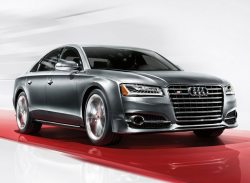 — Audi is recalling more than 6,600 model year 2013-2015 Audi S8 and A8 vehicles after complaints about leaking gas from damaged fuel lines.
The automaker found the fuel supply line for the fuel pump may become porous over time, resulting in a fuel leak.
The defective fuel supply lines were used in vehicles produced between June 2012 and July 2014, then Audi started using a different fuel line in July 2014 that has a higher stiffness which makes it less susceptible to become porous.
Audi started hearing about vehicles with gas leaks due to damaged fuel lines in 2016 and by 2017 those reports were increasing. Parts were collected from the field and engineers determined the fuel lines became porous from the inside.
After more complaints arrived, Audi found all the gas leaks were occurring only in Canada and the U.S.
The automaker knows the inside of the fuel lines are becoming damaged but engineers haven't determined the root cause of the problem.
The Audi S8 and A8 recall will begin August 21, 2018. Audi dealers will replace the fuel supply lines for free, but concerned owners may call 800-253-2834.
Audi's number for this recall is 20AV.