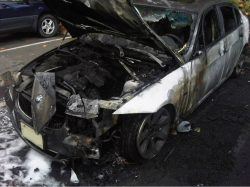 — A BMW EGR cooler recall has been issued to prevent fires in 1.6 million vehicles worldwide due to glycol leaks from the coolers.
"Exhaust gas recirculation" is used for various purposes but primarily to reduce nitrogen oxide emissions, but BMW says the EGR cooler modules can create smoldering particles that can possibly melt the intake manifolds and cause fires.
BMW has been battling fire problems for months to the point South Korea took the drastic measure of banning some models from the roads following reports of about 40 car fires linked to EGR cooler issues.
The automaker had already recalled 480,000 diesel vehicles in European and Asian countries in what BMW called a "technical campaign" and those vehicles are included in the expanded recall of 1.6 million vehicles.
Vehicles recalled in the U.S. include the following:
2013-2018 BMW 328d
2013-2018 BMW 328d xDrive
2014-2018 BMW 328d
2014-2018 BMW 328d xDrive
2014-2016 BMW 535d and 535d xDrive
2015 BMW 740Ld xDrive
2015-2017 BMW X3 xDrive28d
2014-2017 BMW X5 xDrive35d
According to BMW, typical soot deposits can combine with high temperatures normally present in the EGR modules and cause the hot particles that damage the manifolds.
Following the August recall of 480,000 diesel vehicles, BMW engineers examined other vehicles with similar technical aspects of the engines. The automaker claims vehicles not included in the recall showed no significant fire risk, but BMW says it wanted to reduce even minor risks of fires to satisfy customers.
BMW dealers will check the EGR modules and replace any faulty engine intake manifolds in the vehicles that were manufactured between August 2010 and August 2017.
The recall is expected to begin December 17, 2018.
Diesel customers with questions should call BMW at 800-525-7417.