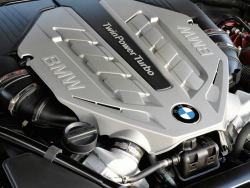 — A BMW N63 engine class-action lawsuit may be over for owners and lessees who have suffered from drained batteries and oil consumption problems.
The proposed settlement includes about 84,000 current and former owners and lessees of 2009-2014 BMW 5 Series, 6 Series, 7 Series, X5 and X6 vehicles equipped with N63 engines.
Plaintiff Joon Bang filed the class-action lawsuit in September 2015 in California, and that same month a similar N63 lawsuit was filed in Kansas. The Kansas lawsuit was dropped so the plaintiff could join the California complaint, but within three months two more N63 lawsuits were filed in California.
The affected parties then moved to transfer the consolidated lawsuit to a New Jersey federal court. Although the case never went to trial, BMW says it agreed to settle to save on the future expense of litigation that has already went on since 2015.
According to the plaintiffs, the V8 turbocharged N63 engines consume excessive amounts of engine oil between regularly scheduled service visits. Owners also complain about drained batteries and the expense of replacing the batteries on a routine basis.
The lawsuit alleges BMW knew the vehicles had problems because in June 2013, the automaker issued technical service bulletin (TSB) SIB-11-01-13 to dealers after complaints about oil consumption.
In November 2013, another TSB (SIB 11 03 13) was issued to dealers that set a new "oil consumption specification" that said "[a]ll BMW engines (excluding Motorsport) can consume up to 1 quart of engine oil per 750 miles at any time."
The plaintiffs claim the TSB says owners may need to add up to 20 quarts of oil between regularly scheduled oil changes.
The problem was enough to cause BMW to create the "N63 Customer Care Package" (TSB SIB 00 13 14) in December 2014, but the plaintiffs claim the repairs did nothing to help.
In addition to the N63 engine oil consumption issues, the plaintiffs claim batteries drain at advanced rates and require replacement every 10,000 miles or one year.
Complaints about BMW's drained batteries caused the automaker to issue TSB SIB 61 30 14 instructing BMW technicians to replace the batteries at every engine oil change if the battery had not been replaced in the previous 12 months.
Owners would also be provided free replacement batteries, but only until the expiration of BMW's 4 year or 50,000-mile warranty. But the plaintiffs say none of this will help owners beyond the warranty periods.
According to the proposed settlement terms, every affected owner and lessee will receive a voucher transferable to family members that is worth either $1,000 or $1,500 toward the purchase or lease of a new BMW vehicle.
BMW will also reimburse owners and lessees for out-of-pocket costs for up to three oil changes, not to exceed $75 each, provided the costs were paid by the owner or lessee for an oil change performed during 10 years/120,000 miles (whichever is earlier) from first use and took place less than 12 months/10,500 miles after the previous oil change.
Owners may also elect to receive a free future oil change in place of the $75 cash reimbursement for each past qualifying oil service.
BMW will further reimburse owners and lessees for the cost of up to seven quarts of oil (not to exceed $10 a quart) as long as the following conditions are met:
(a) adequate proof of purchase is presented
(b) the oil was of the same type and grade as provided in the owner's manual
(c) at least one prior oil consumption complaint was made to a BMW dealership and confirmed by documentation
(d) the vehicle had fewer than 10 years/120,000 miles at the time of the oil purchase
The proposed settlement agreement also has BMW reimbursing for the cost of one tow, rental or roadside assistance up to $50, but only if the vehicle was towed to a BMW dealer or third-party repair facility and with documentation confirming the tow was related to an oil consumption or battery discharge issue.
And finally, the automaker will reimburse the cost of one battery replacement that was incurred within three years prior to final approval of the settlement and purchased outside of the new vehicle limited warranty period.
The above benefits require that claims must be submitted, but other benefits are called "complimentary" because all affected owners and lessees qualify.
Customers will receive a credit of $75 each for up to three future oil changes until the earlier of 10 years or 120,000 miles, regardless of whether they have experienced excessive oil consumption.
A customer is also entitled to one free 105Ah battery to replace a 90Ah battery, or if the vehicle cannot be retrofitted with the 105Ah battery, a 90Ah battery will be provided.
BMW will further provide free replacement batteries if the replacement batteries fail within 2 years of installation and the failure is not due to customer negligence.
In addition, BMW will perform up to three oil consumption tests if the oil warning light illuminates within the oil service interval and provide free repairs on a vehicle which fails the test within the earlier of 10 years or 120,000 miles.
Furthermore, each affected N63 vehicle is entitled to one service under the customer care program.
For customers who hope to have their engines replaced, there is hope, but there are also qualifications that include paying part or most of the cost.
According to the proposed terms, BMW agreed to pay plaintiff attorneys' fees and expenses of more than $3 million.
The final approval hearing is scheduled for September 10, 2018.
The BMW N63 class-action lawsuit was filed in the U.S. District Court for the District of New Jersey - Bang, et al., v. BMW of North America, LLC et al.
The plaintiffs are represented by McCune Wright Arevalo, LLP, and Wagstaff & Cartmell, LLP.