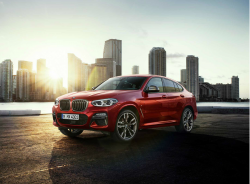 — BMW is recalling nearly 5,600 new vehicles that could experience brake problems related to the rear brake caliper pistons.
2018-2019 BMW X3 sDrive30i
2018-2019 BMW X3 xDrive30i
2018-2019 BMW X3 M40i
2019 BMW X4 xDrive30i
2019 BMW X4 M40i
BMW says an assembly worker was driving a vehicle and noticed the brake pedal traveling too far toward the floor. It was believed the problem was caused by contaminated brake fluid or possibly a faulty brake component.
BMW dealers started filing reports about the same brake pedal issues and the supplier confirmed the rear brake calipers may have been manufactured incorrectly.
The supplier, ZF TRW Global Braking, determined the rear brake caliper's pistons may not have been sufficiently coated, causing gas to temporarily be trapped and then released into the rear brake circuit. This will cause gas pockets within the brake circuits and reduced braking performance.
However, only the rear brake circuit will be affected because of how the braking system is designed.
The automaker says it's unaware of any crashes or injuries related to the brake caliper pistons.
BMW dealers will bleed the rear brake circuits beginning August 21, 2018.
Affected vehicle owners may call BMW at 800-525-7417.