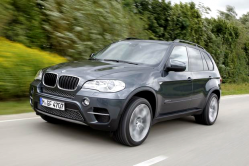 — Model year 2009-2012 BMW X5 xDrive35d idler pulley bolt problems that were allegedly repaired years ago have caused federal investigators to open an investigation after owners continued to complain about steering problems.
The National Highway Traffic Safety Administration (NHTSA) says 30,000 of the SUVs were recalled in 2012 to fix issues with the diesel engine idler pulley bolts that could loosen over time. Stress could cause the pulley bolt heads to bend and finally break, causing failures of the alternators and power steering systems.
In the 2012 recall, BMW told safety regulators the automaker would install new bolts with revised installation procedures. However, NHTSA says it has received 19 complaints about failures of the belt drives, loss of power steering and loss of alternator function in the X5 xDrive35d SUVs.
The complaints were made about SUVs allegedly repaired during the 2012 recall but that failed about 3.6 years after the SUVs were repaired. NHTSA is worried about a pattern it sees with the complaints, as 11 owners have reported problems since January 2017.
One complainant says the BMW X5 xDrive35d was allegedly fixed during the 2012 recall but experienced the exact same idler pulley bolt failure 35,000 miles later.
According to the driver, the pulley bolt snapped while the SUV was traveling on a city street, causing a loud noise and a complete loss of power steering. The owner contacted their dealer and BMW corporate but was allegedly told the recall repair was only good for two years.
Another BMW driver told the government about driving on a freeway and suddenly feeling a loss of power steering. After pulling over and checking under the hood, the driver noticed the drive belt tensioner pulley was broken and out of its intended location.
NHTSA says federal investigators will research the 2012 recall and why owners are reporting the same problems less than four years after the SUVs were supposedly fixed.
CarComplaints.com has complaints from owners of BMW vehicles.