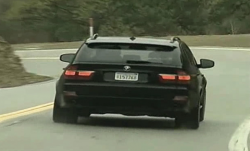 — BMW is recalling more than 33,200 model year 2009-2013 X5 xDrive35d diesel SUVs that were originally recalled in 2012 for engine idler pulley bolt problems.
In April 2018, the National Highway Traffic Safety Administration (NHTSA) opened a "recall query" to determine if the 2012 recall did its job.
All the SUVs were recalled in 2012 for the exact same problem, but this latest recall will see the addition of 2013 models.
The 33,200 X5 xDrive35d diesel SUVs are equipped with idler pulley bolts that can weaken over time and break, leaving the vehicle without power steering.
BMW says the pulley is screwed onto a bolt that secures the alternator to the engine block. But engineers determined multiple issues could cause the bolts to loosen, including "very low ambient temperatures, tightening torque in the lower tolerance range, [and] higher lateral forces caused by the belt drive."
A driver won't lose the ability to steer the SUV because manual steering will remain, but suddenly losing power steering while traveling at slow speeds could cause problems. The same can be said for the power steering taking a holiday while traveling around sharp curves.
A driver will need to use much greater force to steer the vehicle, and BMW says the alternator warning light (battery icon) will be illuminated along with the warning message, "Charging malfunction: Battery is not recharging. Stop carefully. Consult nearest service center."
In the 2012 recall the automaker told NHTSA that dealers would install new bolts with revised installation procedures. However, NHTSA says it has received at least 19 complaints about failures of the belt drives, loss of power steering and loss of alternator function in the X5 xDrive35d SUVs.
BMW says the recall should begin July 13, 2018, but a recall remedy is still being worked out.
BMW X5 xDrive35d owners with questions should call the automaker at 800-525-7417.