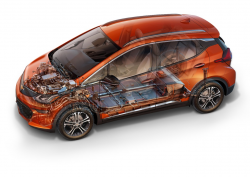 — Chevy Bolt reduced propulsion power problems have caused General Motors to issue a "customer satisfaction bulletin" to address what the automaker calls a "battery low voltage cell condition" that causes a loss of propulsion.
GM emphasizes the bulletin (N172127150) isn't an official recall for the 2017 Chevrolet Bolt, but every owner is advised to contact their dealer for a software update.
According to GM, Chevy Bolt propulsion power is reduced or lost because of battery cell problems that result in low voltage conditions. The issue will cause a driver to receive inaccurate battery charge information and make a driver believe the car has more power remaining than it does.
The automaker is using its OnStar in-vehicle feature to monitor the battery cells, low battery voltage conditions and incidents of reduced propulsion. Bolt EV customers are advised to keep their batteries charged above 30 percent to minimize the chance of the car reducing power and shutting down.
GM says the software update will provide additional warnings if a battery cell low voltage condition occurs, allegedly to give Bolt drivers more time to safely get the cars off the roads. But the automaker didn't say anything about permanently fixing the problem before it occurs.
A 2017 Chevy Bolt EV owner has already complained to the National Highway Traffic Safety Administration (NHTSA) about the loss of propulsion and told NHTSA to open an investigation into the matter. The owner also said an official safety recall should be ordered so a record will appear on NHTSA's website.
"I received a "Customer satisfaction" call from chevrolet telling me that my car may experience "Loss of propulsion" and stop suddenly without warning due to low charge despite the battery indicator showing charge. This problem has been ongoing for 8 months and is an extreme safety hazard that should be categorized as such and listed on the nhtsa website."
The owner, clearly upset about how GM is handling the issue, says potential customers need to know about the battery problems prior to purchasing the cars.
"Consumers should know about this safety issue before purchasing the vehicle, but now can only find out if they buy the car and have a vin. I have been constantly charging the vehicle to avoid the problem but am terrified to drive the car. Please conduct an investigation to ensure chevy fixes the problem and consumers can be informed"
GM has been aware of the battery low voltage cell condition because the automaker contacted Bolt owners in August 2017 about the same reduced propulsion issues. At that time, GM said a large majority of Bolt owners had been contacted by OnStar before the cars experienced a loss of propulsion.
In addition, the automaker estimated less than 1 percent of owners actually experienced the battery voltage problems.
Have a complaint to add about your General Motors car? Add your complaint here, about any vehicle.