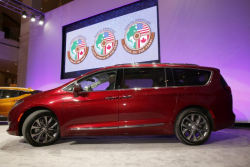 — Chrysler Pacifica stalling problems have caused a recall that will allegedly fix problems that typically occur while the minivans are making turns, driving slow steady speeds, while idling or when starting.
The recall includes nearly 154,000 model year 2017 Chrysler Pacifica non-hybrid minivans in the U.S., nearly 7,500 in Canada, more than 970 in Mexico and about 245 outside North America.
Pacifica drivers who complained about stalled engines were allegedly able to restart their minivans immediately afterward.
Fiat Chrysler (FCA US) says "under a rare set of conditions" the engine control module (ECM) can misread the operating status of the engine, causing the engine to stall.
Chrysler knows of one crash allegedly connected to the stalling problem, but is unaware of any injuries.
FCA says the fix involves dealers installing updated engine control software when the recall begins March 2, 2018.
Owners of the recalled minivans may contact FCA customer service at 800-853-1403.
The 2017 Chrysler Pacifica recall follows a petition to investigate stalling problems in the minivans filed by the Center for Auto Safety (CAS) and Pacifica owner Adam J. Cohen. The November 2017 petition asked the National Highway Traffic Safety Administration (NHTSA) to open an official investigation into complaints made about the minivans.
In addition to wanting NHTSA to investigate the problem, CAS said FCA should recall the non-hybrid minivans and provide loaner vehicles until the Pacificas are correctly repaired.
"We look forward to seeing Chrysler undertake a model recall by rapidly contacting all affected owners to ensure this remedy is applied to every single vehicle before this defect results in a serious injury or death. The Center will continue to monitor the situation, and would recommend manufacturers take consumer complaints more seriously at the outset." - Center for Auto Safety
In addition to the petition and recall, Chrysler was sued concerning stalling engines in 2017-2018 Chrysler Pacifica minivans equipped with 3.6-liter V6 engines and 9-speed 948TE automatic transmissions.
CarComplaints.com has complaints about 2017 Chrysler Pacifica minivans and other model years of those minivans.