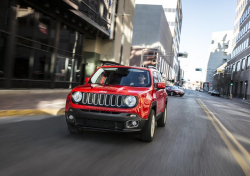 — Chrysler is recalling more than 12,700 vehicles because they could fail to start or could stall while driving.
2018 Jeep Renegade
2018 Jeep Compass
2018 Jeep Grand Cherokee
2018 Ram 1500
2018 Ram Promaster
2018 Fiat 500x
2018 Dodge Journey
2018 Dodge Challenger
2018 Dodge Charger
2018 Dodge Durango
2018 Chrysler 300
2017-2018 Jeep Wrangler
2017-2018 Dodge Grand Caravan
2017-2018 Chrysler Town and Country
2018-2019 Jeep Cherokee
2018-2019 Chrysler Pacifica
FCA first learned of problems when it received an email about powertrain control module failures in Latin America. An investigation was opened as the automaker discovered two vehicles had stalled in North America, with those incidents blamed on the modules.
FCA says as of August 2018, at least 151 vehicles have had their powertrain control modules replaced, with 29 of those caused by vehicles stalling while driving. However, Chrysler hasn't received any reports of crashes or injuries related to module failures.
Engineers determined a voltage regulator chip can fail in the powertrain control module circuit board, causing starting or stalling problems.
Chrysler says the module recall is expected to begin September 28, 2018, when dealers will start replacing the powertrain control modules.
Customers with questions should call 800-853-1403 and ask about recall number U87.
Read what owners of the vehicles named in the recall have told CarComplaints.com about their vehicles: