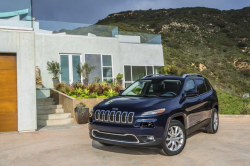 — Fiat Chrysler (FCA US) is recalling nearly 49,000 new 2018 Jeep Cherokees that may experience fuel leaks into the engine compartments.
Nearly 49,000 of the Jeeps are located in the U.S., about 1,666 are in Canada and another 674 Cherokees are outside North America.
The automaker opened an internal investigation in February 2018 after reports of engine compartment fires that occurred in 2018 Cherokees equipped with 2.4-liter engines. Engineers looked at the location and routing of the fuel supply tubes and any potential ignition sources near the tubes.
Chrysler requested the supplier, Copper Standard, investigate the issue while FCA checked warranty data. No crashes or injuries were found, but the fire reports made it clear there were problems with the fuel tubes.
FCA believes the Jeeps were built between September 1, 2017, and January 4, 2018, when the supplier changed how it manufactured the fuel tubes.
Some 2018 Jeep Cherokee vehicles equipped with 2.4-liter engines are not included in this recall because they were built with fuel tubes manufactured by the supplier on a different production line.
The Jeep Cherokee recall begins June 20, 2018. Your Jeep dealer will inspect the fuel tube and replace it if necessary.
Cherokee owners may contact Chrysler at 800-853-1403 and ask about recall number U39.