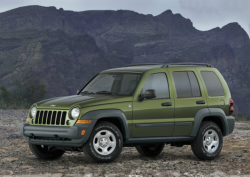 — Nearly 326,000 older Jeep Liberty SUVs are recalled because the rear lower control arms can corrode and break.
Fiat Chrysler (FCA US) says 2004-2007 Liberty lower control arm components can be affected by water that leads to corrosion and potential fractures.
The National Highway Traffic Safety Administration (NHTSA) opened an investigation in September 2011 after complaints about corrosion of the rear suspension lower control arms.
Chrysler then issued a recall in 2012 for 210,000 model year 2004-2005 Jeep Liberty SUVs, a recall that was later expanded to include 2006-2007 Jeeps.
However, the automaker recalled only vehicles located in "salt belt states" due to the risk of corrosion from road salt used in winter months. SUVs located outside certain states weren't included in the recall.
The 2004-2007 Libertys use three-link rear suspension systems with rear lower control arms that constrain the rear axles in the aft direction. This will cause drivers rear suspension stability problems when the control arms fracture.
FCA says it opened its own investigation in 2016 after customer complaints about lower control arms that broke due to corrosion in SUVs not included in the previous recall. As of April 2018, Chrysler found 157 incidents of busted lower control arms on Jeeps that weren't previously recalled.
In addition, there have been 77 warranty claims and repair orders, one crash that occurred after the lower control arm fractured but no reports of injuries.
Nearly 240,000 of the Jeeps are in the U.S., almost 50,000 are in Mexico and another 37,000 are outside North America.
The recall is expected to begin June 20, 2018. Vehicles that were included in the previous recall are not included in this one.
If you own a 2004-2007 Jeep Liberty and have concerns about the control arms, call Chrysler at 800-853-1403 and ask about recall number U38.
Check out owner-reported complaints about the SUVs:
Jeep Liberty: 2004 / 2005 / 2006 / 2007 / All model years