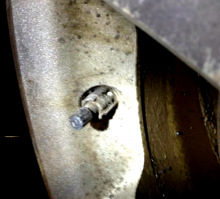 — A Chrysler TPMS valve stem lawsuit alleges Chrysler, Dodge and Jeep vehicles have metal valve stems that corrode and cause the tire pressure monitoring systems to fail.
In addition to failures of the systems, a driver could drive on under-inflated tires and experience blown tires while driving.
Included in the class-action lawsuit are the 2010 Chrysler Town & Country, 2010 Dodge Grand Caravan, 2010 Jeep Liberty and the 2010 Dodge Journey.
A TPMS is used to monitor tire air pressure in real-time, sending electronic information to the instrument panel to let a driver know if the tire pressure is low. The systems have been mandated on all new cars since 2008 after more than 100 fatalities in rollover crashes were blamed on Firestone tires that suffered from tread separation.
The plaintiffs say each tire has a metal valve stem attached to a tire pressure sensor that can cost $130 to replace. Chrysler owners say they can easily spend $500 to replace four valve stems that do nothing but corrode once again.
The lawsuit alleges the automaker knew about the dangers of the metal valve stems because Chrysler finally switched to rubberized valve stems that won't corrode, yet no recall was ordered and Chrysler didn't offer to reimburse customers.
Owners claim the metal valve stems break and fall apart because of corrosion, but replacement parts can sometimes be on backorder because so many customers are experiencing problems.
The TPMS lawsuit was originally filed in New York, but the judge dismissed the complaint after Chrysler argued the vast majority of the plaintiffs didn't buy their vehicles in New York. The plaintiffs regrouped and filed another lawsuit, this time in Delaware, but Fiat Chrysler says moving the lawsuit to another state has done nothing for the plaintiff's arguments.
In its motion to dismiss, Chrysler told the judge the case should be tossed because when they purchased the vehicles, none of the plaintiffs actually had any dealings directly with the automaker.
Attorneys for the automaker also claim drivers waited too long to file suit because the plaintiffs didn't start complaining about TPMS valve stem problems until thousands of miles had been put on the vehicles, especially considering the vehicles were first sold in 2010.
And while the plaintiffs talk about marketing materials used for the vehicles, Chrysler says none of the plaintiffs mention when or where they saw the advertisements, or for that matter if they ever saw or heard any advertisements.
The Chrysler, Dodge and Jeep TPMS valve stem lawsuit was filed in the U.S. District Court for the District of Delaware - Canfield, et al., v. FCA US LLC.
The plaintiffs are represented by Kantrowitz Goldhamer & Graifman, P.C., the Law Offices Of Elmer Robert Keach III, P.C., Migliaccio & Rathod LLP, Parker Waichman LLP, Rosenthal Monhait & Goddess PA, and Whitfield Bryson & Mason LLP.