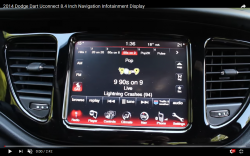 — A Chrysler Uconnect lawsuit will continue for Kansas customers, but not as a nationwide class-action lawsuit.
The plaintiffs say they purchased a new 2013 Dodge Dart that came equipped with a Uconnect infotainment system that allows drivers to control radio, navigation, remote locking, climate control and other features from a touchscreen on the dashboard.
According to the lawsuit, the Uconnect system in the Dodge Dart began to freeze and then shut off in April 2016, leaving a blank, black screen that didn't work, so the plaintiffs took their car to a dealership for repairs while the Dart was still under warranty.
The dealership replaced the Uconnect system on May 14, 2016, but that same day the replacement system began to randomly black out.
On June 1, 2016, the dealership replaced the system's module, allegedly causing the screen to flash back and forth from black to white. Once again the dealership said it had fixed the system, but the screen went black again after the plaintiffs picked up the car.
In July, the dealership again replaced the Uconnect system that allegedly experienced even more issues that prevented the plaintiffs from controlling their heating, air conditioning and navigation. The lawsuit says the next few months saw the dealership try three more times to repair the Uconnect system, but without success.
The plaintiffs say that since 2014, Fiat Chrysler has sent its dealers three technical service bulletins (TSBs) about the Uconnect systems.
FCA (Fiat Chrysler) filed a motion to dismiss the Uconnect lawsuit by claiming the plaintiffs failed to state a specific defect, and claims of warranty violations should be dismissed because the plaintiffs didn't allege breach of an express warranty.
Chrysler also told the judge a nationwide class-action shouldn't be allowed because the plaintiffs based their claims on Kansas law, which "cannot govern out-of-state transactions."
The judge granted Chrysler's motion to dismiss, partially. Hopes for a nationwide class-action lawsuit were lost when the judge ruled claims made in the lawsuit aren't good enough to include any state other than Kansas.
Hence, based on violations of warranty laws, the lawsuit will continue for affected Kansas customers who purchased or leased cars with an 8.4-inch Uconnect infotainment system on or after January 12, 2013.
The Chrysler Uconnect lawsuit was filed in the U.S. District Court for the District of Kansas - Rasnic et al v. FCA US LLC.
The plaintiffs are represented by Bell Law, LLC, Waddell Law Firm LLC, Rex A. Sharp, PA, and the Lanier Law Firm, P.C.