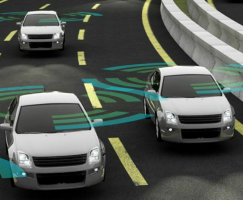 — The thought of riding in a vehicle controlled by driverless car technology is still a scary proposition, even for the generation of drivers born between 1981 and 1996.
Known as Millennials, this group has historically been accepting of driverless technology, but researchers from AAA say 64 percent of Millennials are now afraid of fully autonomous cars. Compare that to the 49 percent who were afraid in 2017 and it provides an idea of how attitudes toward the technology can quickly transform.
Safety researchers say that among all age groups, nearly 75 percent have no faith or trust in driverless cars that perform all aspects of driving, which is an increase of about 10 percent since 2017.
Consumers do seem to be in favor of certain autonomous features as long as they assist drivers, not take full control from drivers. Features such as blind spot monitoring, lane departure and forward collision warning systems have gained favor with consumers and researchers alike.
But it's the idea of a computer taking full control of a car that frightens people.
Studies from the Massachusetts Institute of Technology (MIT), AAA, Gartner, J.D. Power, Kelley Blue Book and university researchers show declines in public trust of the technology, with one study from MIT revealing only 13 percent of consumers would feel safe in fully autonomous vehicles.
It appears men are more trusting of the technology as 70 percent said they wouldn't feel safe on roads where self-driving cars were operating. When the same question was posed to women, a whopping 83 percent said they wouldn't feel safe.
Various researchers have also determined consumers are easily confused by the different names automakers use for their autonomous technology. Although a forward collision warning system typically works the same way, every automaker uses a different name for their technology.
Based on the latest data, AAA says it's highly likely media reports of crashes involving cars with autonomous technology haven't exactly pushed consumers toward fully driverless cars.
In particular, well-publicized deaths involving semi-autonomous technology in Tesla and Uber vehicles seem to have punched consumers in their stomachs when it comes to trust in driverless technology.