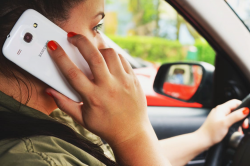 — The latest distracted driving statistics show the number of drivers who report talking on a cell phone regularly or fairly often jumped 46 percent since 2013, according to researchers from the AAA Foundation for Traffic Safety.
Driver denial seen in the AAA study is common as drivers disconnect from what should be and what is, and disconnect from what they do compared to what they believe.
Although 58 percent of drivers say they know the serious dangers of using phones while sitting behind steering wheels, 49 percent still do it. And 78 percent believe that texting while driving is dangerous, yet nearly 35 percent have sent a text or email while driving.
The researchers found that drivers were concerned with aggressive drivers as well as drugged and drunken drivers, with about 88 percent of drivers who believe distracted driving is getting worse.
While the person sitting behind the wheel is the ultimate judge of choosing to drive distracted, automakers have filled their cars with distracting infotainment systems under the false guise that hands-free calling is a safe alternative to holding a phone.
However, this belief doesn't match reality as years of research shows hands-free talking is no safer than holding a phone.
In addition, federal safety regulators have given automakers a free pass to install distracting systems, just one reason the government is putting all its faith in driverless cars that will allow occupants to allegedly do nothing but sit back, take pictures and watch movies while they talk and text on their phones.
Although any level of distraction is a disaster waiting to happen, AAA researchers say there are certain things a driver can do to decrease at least a few distractions.
Don't wait until the car is moving before you program your navigation system, and before the tires start rolling make sure and adjust the seats, mirrors and sound systems.
As for things such as texting, using email, talking on a phone system or using the internet, use your head and forget those things unless you are not the driver. And if you're a passenger and the driver is doing one of those things, accept the fact that you're riding with a distracted driver.